Land conflicts in Six Asian Countries: Findings, Trends and Causes
27 October, 1:30 PM Jakarta/Bangkok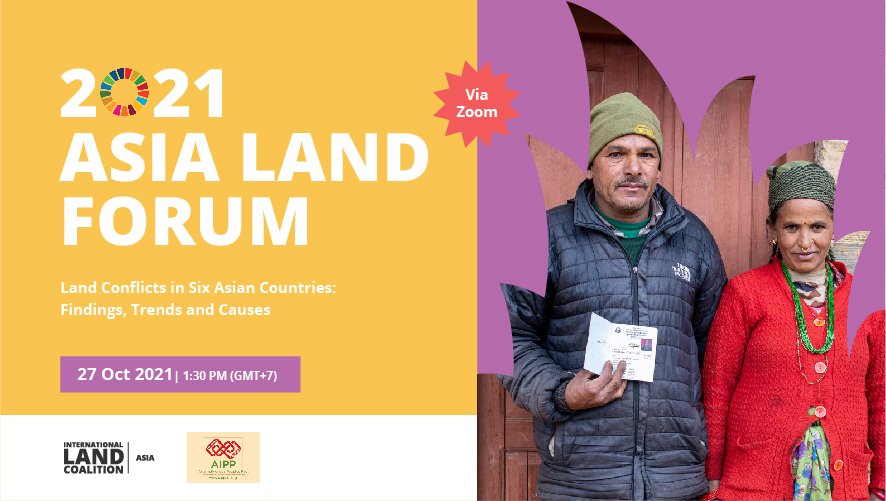 Many social conflicts are rooted in issues related to land and resource rights. This is a fact recognized globally, even by the UN System in the UN Secretary General Guidance Note on Land and Conflict released in 2019. In Asia, such conflicts may be traced to enduring historical injustices, inequitable access to land and resources, faulty and weak implementation of past land and resource reforms, emergent clashes between statutory and customary tenure systems, misappropriation of State domains, and the lack of regard for human rights of the disadvantaged and vulnerable sectors (Quizon, 2018). Land conflicts over time have increased in number, coverage, and intensity. While a huge portion of land and resource conflicts occur in the context of State development or corporate interest (i.e., mining, plantations, economic zones), many conflicts also occur when policies over the same parcels of land overlap or when laws are poorly implemented.
In 2018, the LRHR WG of the Land Watch Asia campaign produced country studies on land conflicts in six countries in Asia. The goal of the initiative was to contribute towards a better understanding of land and resource conflicts that impinge on human rights, by providing evidence-based data for policy – towards the prevention and resolution of such conflicts.
While the 2018 land conflict monitoring reports proved to be useful for painting a picture on land conflicts and their effects on communities and land rights defenders for informed advocacies, the use of different methodologies limited the scope for consolidation, comparison and analysis of data at national and regional level. Building on the monitoring initiative of 2018, the next phase for year 2020 will seek to implement a common and more systematic way to gather data and to report on land conflicts.
Thus, the 2020 land conflict monitoring reports have built on the 2018 monitoring initiative, by implementing a more systematic way to gather data and to report on land conflicts. Following a regional training on land conflict monitoring (Jakarta, March 2020), members of the LWA WG LRHR gathered information on land conflict and rights violations. A common monitoring methodology was implemented in the six Asian countries (Bangladesh, Cambodia, India, Indonesia, Nepal, and the Philippines).
The monitoring period has covered one calendar year (January to December 2020).
Objectives
The Land Watch Asia Working Group will organise a thematic session in order to share the 2020 and conflict monitoring initiative to share the initial findings and observations on the methodology used by the working group in preparing the reports;
Present and discuss the initial findings and observations of the reports; and,
generate inputs on recommendations and ways forward.
Speakers
Framework and Methodology of the 2020 Land Conflict Monitoring Initiative

Regional Overview (Denise Hyacinth Joy Musni, ANGOC)
Country context and reflections (LWA representative)

2020 Land Conflict Report: Initial findings and observations

A regional overview (Antonio Quizon, ANGOC)
Reactors: (TBC) Defending the Defenders Coalition, Global Witness, UNDP-B+HR Asia
Date and Time
Wednesday, 27 October 2021
12:00 PM New Delhi
12:15 PM Kathmandu
12:30 PM Bishkek/Dhaka
1:30 PM Jakarta/Bangkok
2:30 PM Manila/Ulaanbaatar